About Us
Solo Piano Studio is a private music studio located in Mount Pleasant Village Toronto emerged from pianist and composer Teo Milea`s desire to pass on his knowledge of piano and music theory, gathered in over 30 years of experience in the professional musical field.
Teo Milea is a RCM Certified Teacher. His own exposure to exceptional international teachers during his developmental years makes him a great communicator, an intuitive and creative teacher.
Classes address all levels – beginners, intermediate and advanced, each student is taught individually. One session comprises both theory and piano practice, following the Royal Conservatory of Music syllabus.
Solo Piano Studio aims to develop best level pianists and train them for exams, much wanted contests` awards, and last but not least, to win the public`s admiration.
Available Spots:
Tuesday: 4:00PM – 5:00PM
Thursday: 4:20PM – 5:20PM
Prices:
  30 min  –   $40.00
  45 min  –   $55.00
  60 min  –   $70.00
  90 min  –  $100.00
120 min  –  $130.00
Teacher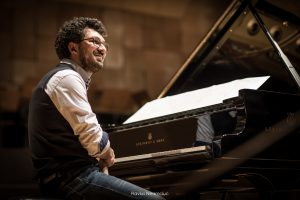 Teo Milea is a Toronto-based contemporary pianist and composer whose unique musical style speaks to the public in a cinematic way.
Teo Milea collaborated with The Opera of Vienna (Austria), he is the first pianist in the world invited to play his own music at the NATO headquarters (Brussels, Belgium) and even more, the first pianist to mount on the stage of The International Ballet Festival (Dortmund, Germany), interpreting his work.
As new achievements, Teo Milea was the first solo piano artist to reach the Top 4 at Searchlight 2016 contest on CBC Music Canada and the winner of Popular Vote with his solo piano song 'Irreversible', and was selected to give the Postludes performance after Ludovico Einaudi`s concert at the Koerner Hall, in Toronto.
Discovering Teo Milea`s music is love at first note. Listen to his music; it is the perfect soundtrack for your life.
"Some very talented people can construct pseudo-narratives from music itself. Teo Milea has the rare ability to do all this with only the use of his piano…Milea has enough talent in him to become not only one of the next great piano players, but composers, too".
– The Scene Magazine (Toronto)

= 2018 =
Michael Husu (Grade 10)
North York Music Festival
1st Place Award (Romantic – List C)
1st Place Award (Etudes)
1st Place Award (Modern – List E)
3rd Place Award (Post-Romantic – List E)

Andreea Gugiuman (Grade 8)
North York Music Festival
1st Place Award (Etudes)
Amalia Enache (Grade 3)
North York Music Festival
1st Place Award (Baroque – List A)
1st Place Award (Etudes)
1st Place Award (Romantic – List C)
2nd Place Award (Etudes)
3rd Place Award (Classical – List B)
George Ghiugan (Grade 6)
North York Music Festival
1st Place Award (Etudes)
2nd Place Award (Etudes)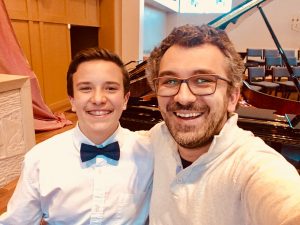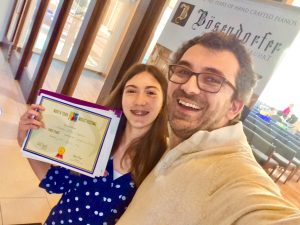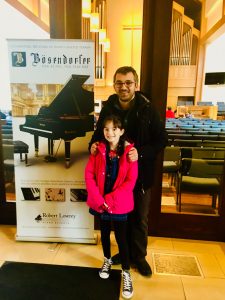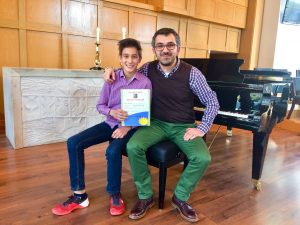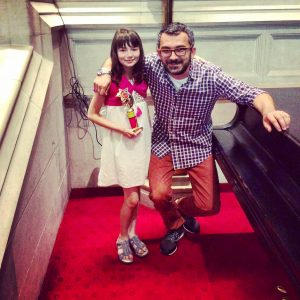 __________________________
= 2017 =
Matthew Alexandru Poru (Grade 7)

Ontario Music Festivals Association
May 27
3rd place award 2017 Provincial Finals Competition
North York Music Festival 2017                                                    
May 27
Best Intermediate Pianist – North York Music Festival 2017 Gala   
April 15
1st place award Quick Study                                                           
April 9
1st place award Study
1st place award List A
April 2
Qualified for the Provincial Piano Competition
1st place award Study
1st place award List B
3rd place award List C
April 26
1st place award List A
1st place award List B
2nd place award List C
2nd place award Study
April 13
3rd place award List A
April 10
1st place award List B
2nd place award Study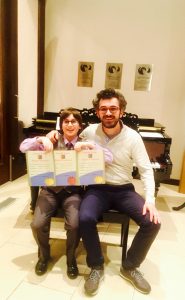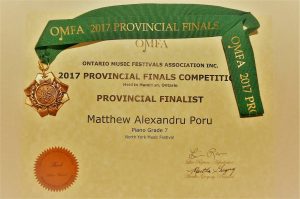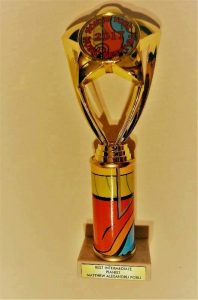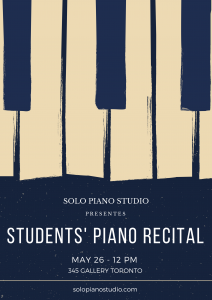 Saturday, May 26, 2018 at 345 Gallery in Toronto, ON
Free Event. Limited Seats.
RSVP on Eventbrite here: https://www.eventbrite.ca/e/spring-piano-recital-tickets-44682255830